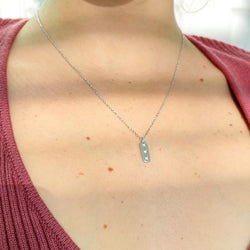 bohemianguru
Cubic Zirconia Oval Pendant Necklace | 925 Sterling Silver
This beautiful oval constellation pendant is for those who are looking to connect with their inner skies. 

Our Cubic Zirconia Oval Pendant Necklace, crafted with 925 Sterling Silver, is the perfect addition to your jewelry collection. This stunning pendant features a high-quality Cubic Zirconia stone, adding a touch of glamour to any outfit. The durable Sterling Silver construction ensures longevity, making it perfect for daily wear. Order now from our Shopify store and elevate your style with this beautiful piece.
Material: 925 Sterling Silver, Gold dipped
Stone: Cubic Zirconia
Chain Type: Link Chain
Chain Length: 38cm + 4cm
Pendant size: 1.2cm X 0.4cm
Pendant Shape: Oval
Handmade item
Our Guarantee
From the moment you browse our website to the first moment you try your new jewelry on, our Gurus are here cheering for you. We are here if you have questions or concerns, we are here to sprinkle your order with magic and love.
Our mission is to empower women by introducing bold pieces and encouraging them to express themselves freely.
We do a happy dance when you reach out to us, because that's why we are here!